Kevin Smith's divisive oeuvre has spanned over a quarter of a century, and crossed through multiple genres. His earlier films have mainly been dramedies while his later films have been mainly horror (sans the Jay and Silent Bob reboot). He broke his genre mold with the political/religious satire Red State, which is a visceral no holds barred gut punch. From there he made the Justin Long vehicle Tusk--this one was the real genre divider. And Yoga Hosers was just bad. That's not a subjective statement.
Even in his worst genre film Smith proves he has a deep love and understanding of the genre. His latest venture Killroy Was Here takes him into the coveted anthology film:
A horror anthology centred around the phenomenon of the "Kilroy Was Here" graffiti.

(IMDb)
Anthology films are generally hard to pull off mainly for the fact that if you have one bad story within the whole thing can fall apart. From the trailer it seems Smith has learned his lesson from Yoga Hosers. With hints of Red State, Lake Placid, and Hatchet (to name a few) Killroy seems like it will be chock full of vignettes covering the full spectrum of subgenres.
We don't get a great look at Killroy itself, but just knowing Robert Kurtzman (The Haunting of Hill House, From Dusk Til Dawn, Army of Darkness) is involved definitely elevates the validity of the project--well any project honestly. This also marks Smith and Kurtzman's third collaboration together; Tusk and Yoga Hosers respectively.
The film stars Azita Ghanizada (Ballers, Alphas), Chris Jericho (professional wrestler, MacGruber, Jay and Silent Bob Reboot), Betty Aberlin (Red State, Dogma), Harley Quinn Smith (Tusk, Yoga Hosers), Jason Mewes (Halloweed, Jay and Silent Bob, Clerks, Dogma) and Justin Kucsulain (The Walking Dead, Sleepy Hollow) as Killroy.
This was originally supposed to be released in 2020 but has been pushed back to 2021, most likely due to the virus. The film seems to be really fun and looks like it will be a blast of a popcorn flick. Keep an eye out for release updates!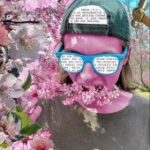 I write horror sometimes.