Are you browsing for the internet in the deep search for something original horror based to watch or listen to? Well Slinky's Liquor Pawn and Video is a up and coming YouTube channel with emphasis on horror movie culture. It's a great show and you can watch the content get better every time they upload.
I was able to chat with the creators Slinky Giallo, KC Elswick and Pop Tart(they were not able to make the interview) the creators of the YouTube Channel. This is what I found out.
We asked why people should tune in.
Why exactly should someone watch the show?
"The channel is a haven for everyone who loves horror and enjoys our easygoing and light-hearted approach."
"Tune in if you wanna know about all levels of horror deep dives with The Red Rabbit, behind the scenes info with Horror After Midnight and Bad horror film reviews suggested by Slinky on The Sh*t Slinky Made Me Watch."
Slinky's Liquor Pawn and Video created roughly 8 months ago from this article posting is a form of talk show — podcast that has a throwback to the video store feeling people know and love. When you listen to them speak you will know exactly what I mean if you grew up in the 80s, 90s early 2000's. They make you feel welcomed and make you feel like you have known them a long time, it's like listening or in my case talking to an old friend.
With a little sketchy on the side.

Slinky
We asked them how they liked being on YouTube and how the experience was so far being a horror based channel was creating content and managing the platform while coming up with new ideas.
What about YouTube?
'With your emphasis on horror do you find that it is a wishing well of content or do you scramble for ideas ? how do you find the industry of YouTube, any strikes or negative effects thus far?'
"So far you tube has been great to us. Solid fans and great feedback."
"I have been working with these guys since years now! With lots of hard work and timely communication they made sure they delivered the best to me. Highly recommended!"
The light hearted production welcomes guests but yet keeps a very professional vibe as you can tell they take this very serious and want to get even bigger guests and topics on their show. Slinky said "We're very passionate about and have a deep respect for those involved in the industry." Pop tart is already involved in some paranormal investigations. Slinky and KC said they would consider doing a paranormal investigation once they are all able to be in the same place which I think would be awesome to watch.
Who came up with all this?
'who is the visionary? which one of you are the brains behind the operation? are there more then just you behind the production?'
'The name and concept came from our producer, "Pop Tart", she's responsible for the name and logos. She also came up with concept of The Shit Slinky made me watch and we threw the ball to Chris.'
'Yes she's great we wouldn't be here without her, Poptart and Slinky started the show and i joined in shortly after'

The YouTube channel is not comprised of just one show instead they have taken a network approach of creating multiple shows under one channel or brand, under the guise of their producer Pop Tart. During our interview I also discovered that the crew had interviewed some really interesting horror movie celebs such as Adam Marcus, Nathan Baesel and Dan Yeager. But it did not end there they have also interviewed Kristy Stevens a demonologist. Leading me to say the possibility of guest are endless as they are well on their way to becoming a reliable source for horror. They have the following shows on their YouTube Channel — Slinky's Liquor Pawn and Video.
We do different shows there's Horror After Midnight, The Sh*t Slinky Made Me Watch and The Red Rabbit Drive-In a little bit of everything covering films interviews review's

KC Elswick
While they have a focus on horror you can find all sorts of content on the channel Slinky told us about the show "The Sh*t Slinky made me watch" which is just off the wall comical content where it makes you feel good and you may even cry from laughing so hard.

'The Red Rabbit is a show about all types of films. Not just Horror.'
" The funnier side right now is The Sh*t Slinky made me watch is downright hysterical. But we try to include humor in all of what we do."

Slinky
We chatted a little bit about our favorite horror movies, the paranormal and our experiences with them, we had a good high spirited conversation and learned that we all believe in the paranormal. The team is comprised of level headed people doing great work while providing amazing content for us horror fans to tune in and enjoy.
The bottom line is if you want to check out something new, something horror related then we suggest checking out Slinky's Liquor Pawn and Video you might just enjoy it!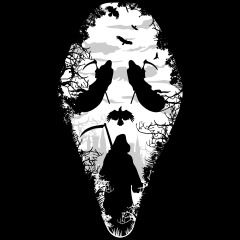 Founder and website developer for Horror Facts independent horror magazine.
Husband, Sailor and Independent Writer