I saw the proof of concept video for this film and was immediately blown away. As someone who goes nuts over Found Footage films I truly appreciate ones that set themselves apart from the others. Into the Black Abyss: Deathstream looks to be a trippy home-invasion film that gives meaning to the camera--and the protagonist seems incredibly relatable. Personally I've found myself quarantined up and watching more live streamers than I ever have in my life which truly showed me how intense the fandoms for the streamers can be. That gives the camera purpose, and is why on concept alone I feel this film just works. Plus it will mainly rely on practical effects, and I mean c'mon that's bonus points right from the start!
Into the Black Abyss: Deathstream is written and directed by Daniel Mark Young (For Her, Run) Co-Founder of Viral Films UK.
Their Indiegogo campaign is up and running and has already hit 65% of their goal! This means you still have time to help support indie horror, and help bring to life what looks to be just a really fucked up and fun genre film. There are some really great perks and you can learn more about the cast, crew, and process over on their campaign page! Which, again, you can find right here -> click me <-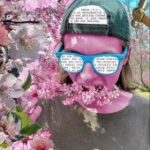 I write horror sometimes.